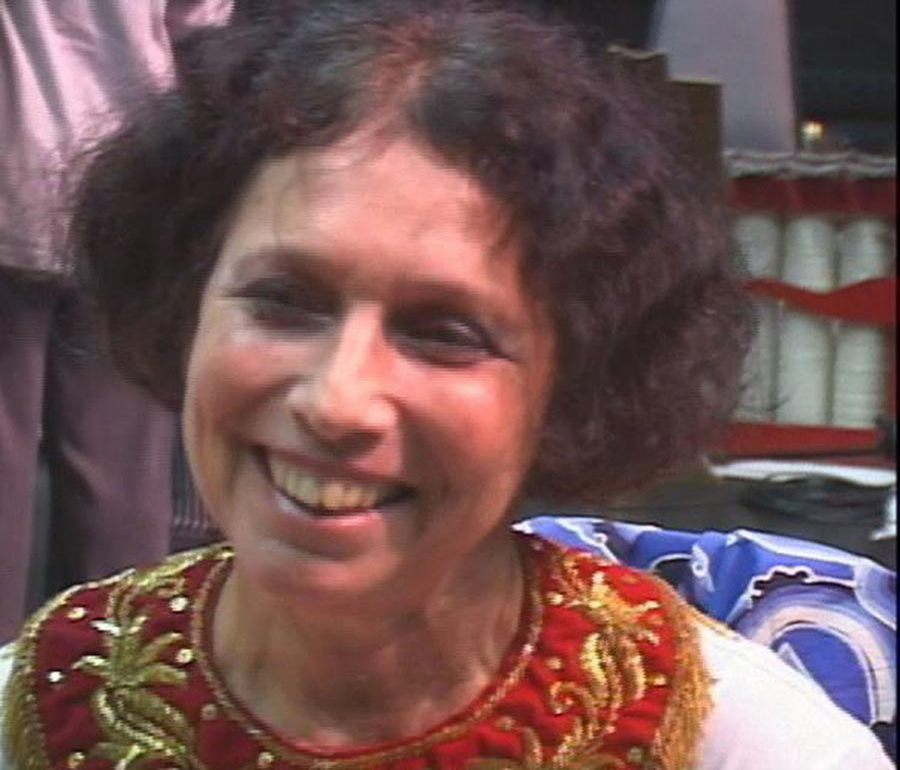 Deena Burton, founder of Arts Indonesia, died...on April 3rd, 2005.

The cause was cancer.

Born in Brooklyn in 1948, Deena grew up in Manhattan Beach. As a child she studied dance with Woody Guthrie's wife Marjory Mazia, and later at the Henry St Settlement and the New Dance Group. She attended the University of Wisconsin, where she majored in Fluid Arts, a combination of philosophy and theater. It was at University of Wisconsin, under the tutelage of A.C Scott, that she discovered Javanese dance. She also worked with director Stuart Gordon's Organic Theater while in Madison.

After she graduated she moved to Honolulu, where she supported herself as a nightclub dancer while studying Javanese Dance at University of Hawaii with Hardjo Susilo as a non-matriculated student. Occasionally she worked as an entertainer on cruise ships, part of the Real Sisters, Sue Real and Un Real. The following several summers were spent at the Center for World Music in California and Washington, studying a variety of non-western art forms with master artists. On the faculty at the Center for World Music were Ben Suharto and Theresa Suharti from Yogyakarta, Indonesia, teaching the classical court dance styles of central Java, and Nugraha from Bandung, teaching traditional Sundanese (west Java) dance. Students of the this short-lived program constitute a who's who of American specialists in non-western performing arts today.

In 1976, Deena went to Java to study dance, expecting to stay several months. Instead she stayed four years. She studied with Nugraha in Bandung for about a year, then moved to Yogyakarta where she also studied for about a year. Where most dance students concentrate on a single dance style, most often Putri (female style dance), Deena learned a wide range of dance styles including Monkey style, clown style, Gagah or strong male style, Alusan or refined male style and only after she had acquired some mastery of these styles did she seriously study the Putri style that was considered appropriate for her.

Moving to Jakarta, she continued her dance studies at Institut Kesenian Jakarta. There she studied with S Karjono. She began performing locally, presenting classical Javanese dances with the dance company Ratna Budhaya. She performed in Meta Ekologi, a radically experimental production by Sardono Kusuma, who is now regarded as Indonesia's preeminant choreographer.

She became interested in the dance practices of the villages around the city of Cirebon, traveling frequently to study with Sudji and Kandeg, both in their 70s. Sudji was a master of topeng babakan; Kandeg of wayang orang. Both forms make extensive use of dance masks. Ms. Burton's fascination with dancing with masks continued until her death. Working with the staff of the American Embassy, she organized a film crew to document Kandeg's wayang orang troup. With Kandeg's death in 1989 the tradition of Cirebonese wayang orang ceased.

Upon returning to New York City in 1980, Ms. Burton entered Columbia University, from which she received a Master's degree in Arts Administration in 1982. She appeared frequently as a performer and choreographer in New York. Her choreography for Tales of the Arabian Nights, directed by Amy Sophia Marashinsky, gave the already exotic offering an even more exotic twist. She performed frequently as the Indonesian specialist with Asian American Dance Theater. She became resident choreographer with Gamelan Son of Lion, a new music ensemble. (gamelan is best translated as orchestra-refering both to the collection of (most often) bronze percussion instruments and the musicians who play the instruments), She founded the Bali-Java Dance Theater. Working in collaboration with composer Skip La Plante, she created The Ramayana (1984), a solo dance piece in which she portryayed the entire panoply of characters in the story, each in a Javanese dance style specific to that character, while Skip played music on a collection of sounding objects -- from suspended refrigerator drawers to tuned pipes and a rebab. In 1985, Ms. Burton set Ramayana on a much larger cast for East-West Fusion Theater. Ms. Burton and Mr. La Plante explored their multi-stylistic format in several subsequent choreographies: The Patchwork Girl of Oz (1987), Pak Kandeg's Story (1988), Arjuna Wiwaha (1995), and Panji Tales (2000). La Plante and Burton were married in 1989.

In 1983, with fellow Americans Marc Perlman and Anne Stebinger, Ms. Burton convinced the Indonesian Consulate in New York City that the Javanese gamelan that had been stored in the consulate's basement since the 1965 world's fair should be used regularly. Gamelan Kusuma Laras (known as the NY Indonesian Consulate Gamelan before 2002), under the direction of Ms. Stebinger and I. M. Harjito of Wesleyan University, has since become perhaps the most accomplished Javanese gamelan ensemble outside of Indonesia. Ms. Burton performed regularly with the gamelan, most often playing bonang panerus, as well as serving as administrative director since its inception.

In 1984, with Ms. Marashinsky and Marlene Pitkow, Ms. Burton organized ARTISTS INSPIRED BY ASIA, a festival of American performers influenced by various traditions of Asian music, theater and dance. After a second ARTISTS INSPIRED BY ASIA festival the following year, Ms. Burton produced ARTISTS INSPIRED BY INDONESIA in 1986. She also began the process of turning Bali-Java Dance Theater and Gamelan Kusuma Laras into a not-for-profit arts organization: ARTS INDONESIA. Gamelan Dharma Swara, a traditional Balinese gamelan also playing instruments that have been in NYC since the 1965 world's fair joined ARTS INDONESIA in 2001. Deena served as president and chairwoman of the board of directors since ARTS INDONESIA's inception.

IN 1986, the Library of the Performing Arts at Lincoln Center acquired ten hours of film shot by Tassilo Adam. Adam, a German, went to Indonesia in 1899. By the 1920s his interest in traditional Indonesian culture had led him to the position of official ethnographer for the Dutch East Indies. In this role he shot several hours of film and took thousands of still photographs. The film that NYPL obtained contained priceless footage of court rituals and performances, but consisted mostly of extremely short fragments jumping erratically between subject matter and containing much duplication. The library hired Ms. Burton to edit the collection. After reducing the 10 hour jumble to 3 watchable hours, she received a Fulbright Scholarship to bring the films to Indonesia, both to elicit comments from leading scholars and artists in Indonesia and to present copies of the film to various government and educational institutions thoughout the country. Ms. Burton lived in Java, primarily in Yogyakarta, in 1989-90, where, in addition to her work with the Tassilo Adam films, she studied dance at Kesenian Pujokusuman under the direction of Rama Sasminto Marsadawa.
Back in NY, she enrolled in the Performance Studies program at New York University, where she received her doctorate in 1997. She wrote her dissertation on Claire Holt, an American whose study of Javanese dance in the 1930s led to an impressive career in the CIA and later at Cornell University where she produced a seminal study of Indonesian visual and performing arts. Ms. Burton's final trip to Java was in 1996, where Gamelan Kusuma Laras performed at the Yogyakarta Gamelan Festival.

Ms. Burton joined the faculty of Eugene Lang College, teaching courses on Asian Theater. She also worked with Young Audiences New York, presenting Indonesian Dance to audiences of school children. She had extraordinary success reaching emotionally disturbed students in hands-on workshops with Indonesian dance masks.

Ms. Burton's Bowery loft was for years known informally as Hotel Indonesia. Many Indonesian performers have stayed there on visits to North America.

Ms. Burton is survived by her mother Beatrice Soloway, her husband, Skip La Plante and her son, Roan La Plante, all of New York; and her half brother Richard Burton of California.